What Size Derma Roller Should I Use?
Click on image below to watch an extremely interesting video by expert Doctor: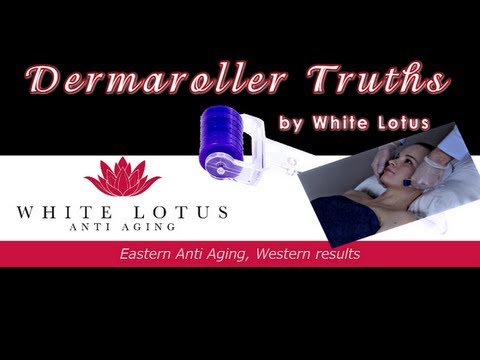 Choosing the Correct Derma Roller Needle Size
There are various sizes of derma roller needles ranging between 0.2mm and 3.0mm, each suited for particular sets of skin complications. Needles 1mm long and below are suitable for the treatment of simple operations while longer ones are recommended for more prominent skin ailments. In this article, the focus will be mainly on different needle sizes, who, when, and how to use each one of them for the best results.
0.2 – 0.3mm size skin roller needle
The 0.2 to 0.3mm size skin roller needles are the smallest of derma roller microneedles which are used basically for what is referred to as transdermal absorption, or simply, enhanced absorption of skin care products. It does not stimulate the growth of collagen, but it does thicken the epidermis making it easier for the skin to respond positively to various skincare products.
Regardless of the derma roller size, the skin is likely to exhibit redness and irritation from regular use. However, the 0.2/0.3mm needle can be used every other day with no side effects. As long as the rolling is not done forcibly, there should be no bleeding, save for minor blood spots which should be normal. It is the most suitable needle size for the areas around the eyes and the neck, therefore; avoid using longer needles on these regions.
0.5mm size derma roller needle
The 0.5mm derma roller needles are the perfect size of needle for anyone looking to treat shallow wrinkles, UV damage, light scarring, and hyperpigmentation. It also helps in the boosting of product absorption for quicker and more efficient results. Derma rolling naturally causes loss of skin moisture and dryness, so longer needles must be used carefully. The 0.5mm needle can be utilized weekly or twice a month without any reverse contraindications. Users experience minimal pain and blood spotting which heals within a short time, therefore; numbing cream should not be necessary.
Effects will vary from user to another, and while some might exhibit excessive reddening and skin irritation from weekly use, others will not. Your skin reaction to derma rolling should help you determine the frequency at which you can use the 0.5mm size needle. Beginners should practice caution with the choice of needles, hence; should not use the 0.5mm needle on a weekly basis.

1.0mm size derma roller needles
These derma roller size needles are more effective in inducing the production of collagen as compared to smaller needles. Besides helping in the reduction of hyperpigmentation and UV damage, the 1.0mm dermaroller needles can treat stretch marks, scars, and even wrinkles efficiently. Users of these needles are also known to enjoy a smoother skin texture, as well as an even complexion. These size needles can be used comfortably on the cheeks, forehead, and the lower neck, but care should be taken along sensitive areas around the eyes and behind the ears.
Owing to deeper needle penetration, users will experience moderate pain which will require a recovery period of up to a week, depending on the aggressiveness of the operation. A numbing cream is necessary, especially to those people who are less tolerant to pain, or have more sensitive skins.
Beginners are advised to go through derma roller treatment once in every 4 to 6 weeks, and not more than twice in a month as that stagnates collagen production. Procedures can only be repeated once the patient has recovered fully from the previous procedure.
1.5 – 2.0mm size dermaroller needles
These are medium size derma roller needles that can be used for the treatment of several skin ailments, mostly those found in other parts of the body other than the face. They are ideal for the back of the hands, abdomen, thighs, arms, and the decollete areas, for treatment of mild to not-so-severe scars, wrinkles, and stretch marks, but must not be used by beginners without prior derma rolling knowledge or professional supervision.
As expected, needle penetration goes deeper with size; hence, the 1.5mm derma roller and the 2.0mm derma roller size needles are bound to cause relative pain during treatment. An anesthetic must be used before the operation to ease the pain on the patient, but the aftermath should last for less than 7 days. Repeat procedures can only be done after full recovery of patients, in most cases between 6 weeks to 2 months.
3.0mm size derma rollers microneedles
These are long needles that should not be used as easy-fix solutions. There are risks involved and are only recommended for use in the presence of a professional. The 3.0mm long needles are not ideal for facial procedures as the skin on the face is said to be much lighter compared to that of other parts of the body.
Depending on the frequency and the intensity of the procedure, 3.0mm derma roller size needles should be used on hardened regions such as thighs, feet, arms, lower and upper back, butts, and the back of the hands.
For people with severe burn scars and stretch marks, these are the perfect needle sizes because of their ability to penetrate much deeper into the skin.
Users will experience various drawbacks that should be normal after treatment. As a precaution, however, application of anesthetic is mandatory. Light bleeding, swelling, reddening, and dryness characterize any operation where needles 3.0mm long are used. The recovery period should normally be between 7 and ten days, during which time all other skin procedures must be stopped. Another derma roller treatment cannot be repeated until after two months when the patient has fully recovered.
Precautions before Derma Roller Treatment
In as much as microneedling, or simply derma rolling can be effective, you are supposed to be extra cautious. There are common mistakes that people commit in their quest for correcting their various conditions besides using the wrong sizes of needles.
If you have active acne, a skin disease, or a sore skin, do not undergo any derma roller treatment.

Consult your doctor in case you are under any medication before going through a procedure

.
To avoid skin disease transmission, always use your personal kit and avoid sharing.
Do not roll forcibly; this causes irregular swelling and unnecessary irritation that takes longer than normal to heal.
Do not apply make-up or tanning lotion immediately after treatment as derma rolling creates micro passages into the deeper skin layer.
Using the right derma roller size at the right time translates to effectiveness. What people must realize is that microneedling is a long-term process whose results might take some time to manifest. It is normal for the skin around the operated region to plumb as a result of growth and blood pumping into those areas. This normally takes less than 24 hours, although side effects like reddening and dryness might be prolonged depending on the magnitude of the procedure.
Reduction and the gradual disappearance of stretch marks, scars, and wrinkles happen when new elastins and collagens accumulate under the skin, which should be after 3 to 6 procedures. It is imperative to understand that using the wrong size of needles for skin treatment only aggravates the condition, and it might take you even longer to correct.
written by: kevinvoxy